RELOCATE NOW COSTA RICA PACKAGE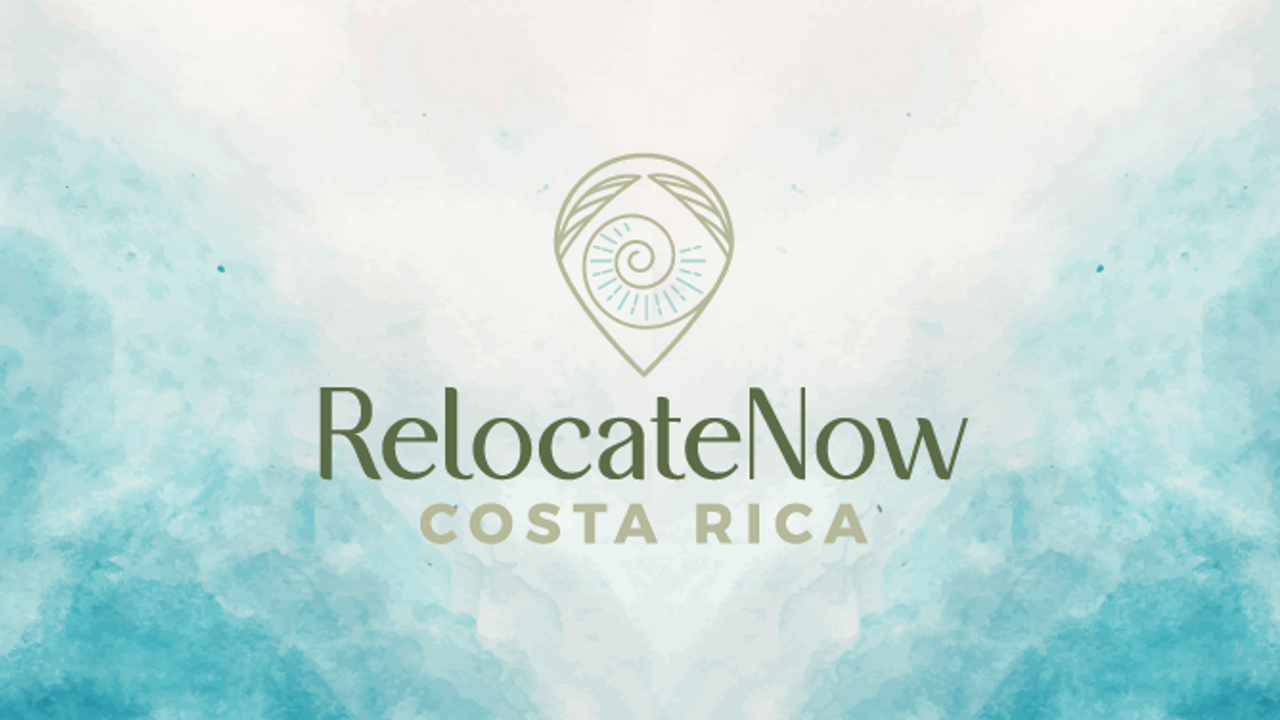 This is ideal for those who KNOW they are moving to Costa Rica and want top notch 1:1 support and connections for their move. If you want direct access to top recommended professionals (in real estate, shipping, attorney's, car purchase, and more) for their move, to give and receive support from a likeminded community, and you are READY to take a leap towards your move, keep reading below!
(This package is not ideal for those who are unsure if they are moving to Costa Rica. If you are unsure, we have lots of resources on the site and YouTube channel to help you figure that part out!)
We work with you continuously before, during, and after your move!
The ultimate game plan + support to execute your move to Costa Rica. We have created a simple, easy to implement program which will guide you through each major and minor logistic of your move.
– Areas to live
– Rental search
– Entry + Residency
– Packing
– Shipping
– Bringing Pets
– Budgeting
– Banking
– Insurance
– Medical
– Car purchase
– Car rental
– … and more!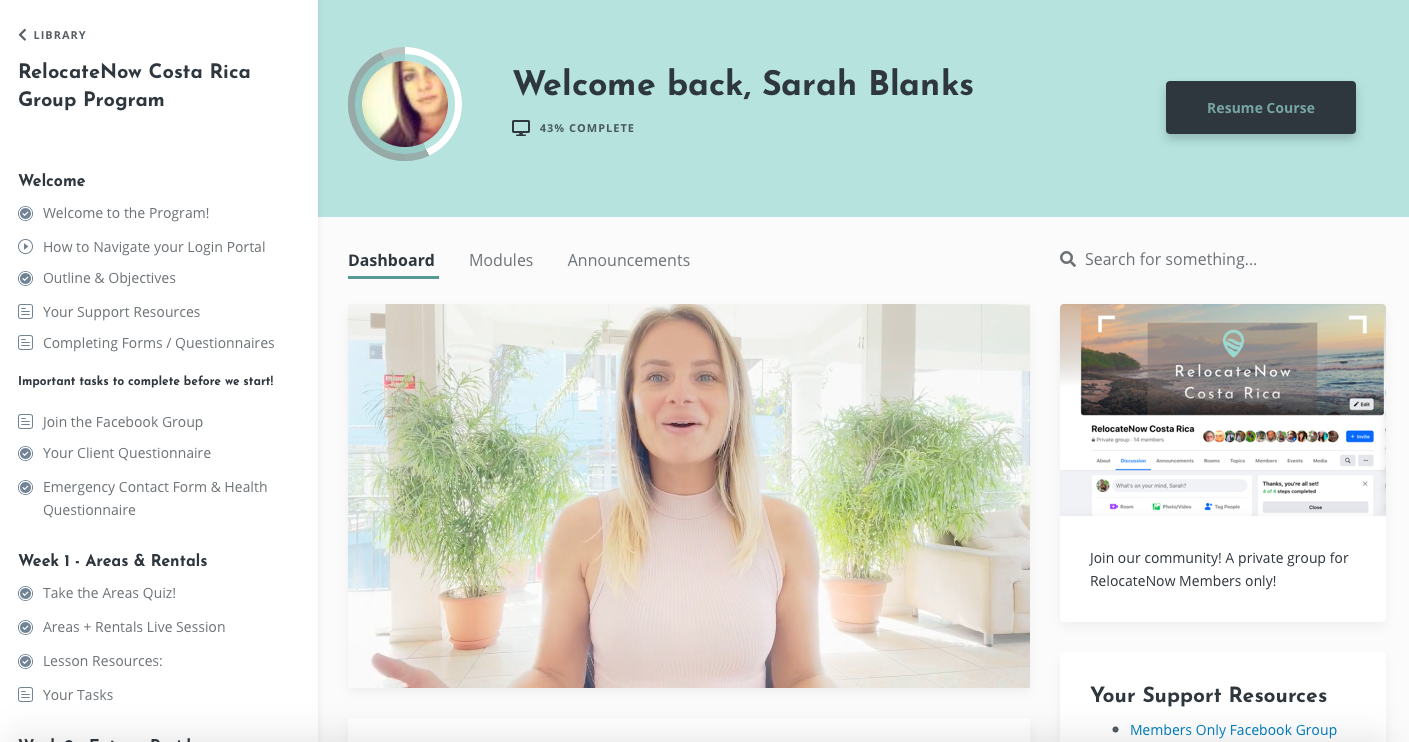 2. You will have the highest level of expertise and support each step of the way! Each of you will have a personal Moving Specialist assigned to you. This specialist will make sure you are on track for your arrival, be there to answer any questions you have, and help you overcome the inevitable hurdles that will come up.
3 . You will have access to our top experts in Residency, Insurance, Shipping, Car Rental, Home Rentals, and more! You will arrive and continue to have the best support in Costa Rica.
4. You have access to our continuous support resources before, during, and forever after your move. Your support resources include:
Weekly logistics + support meetings

Our exclusive members only group where you can connect with those who have moved and those who are also on their way. This is a group where you may always go to get your questions answered by our team and Sarah.

1:1 Phone, Email, & Zoom support




Your WhatsApp Hotline: Need a quick answer? Utilize our WhatsApp hotline for questions too!
5.  Research! Tired of going through the seemingly endless information online? Research is a big part of what we do for our clients. Whether it be research on prescriptions (where to get them, what is needed, and what the costs are), schools, and any questions you throw at us. We  will do the specialized research for you and let you know what we find out! No more spending your precious time on these items so you can focus on the more pertinent parts of your move.
6. Access to our "RelocateNow Costa Rica Members Archive." This is an archive of information designed just for you to go through any our own pace! Imagine having a large library at your fingertips that is continuously updated on topics such as paying bills, phones, wifi, medical care, driving, transport options, and so much more! In this archive you can also find interviews with our experts and other expats.
7. You will be challenged during this process! However, our goal is to make sure you feel supported during these ups and downs that may come up for you.
You will need to dedicate 1-2 hours per week for the first 8 weeks of group sessions of this program. Afterwards, we will be working with you one-on-one on your rental search, arrival, and the rest of your move! Should you miss any of our group meetings or simply cannot attend, the recorded sessions will be sent to you!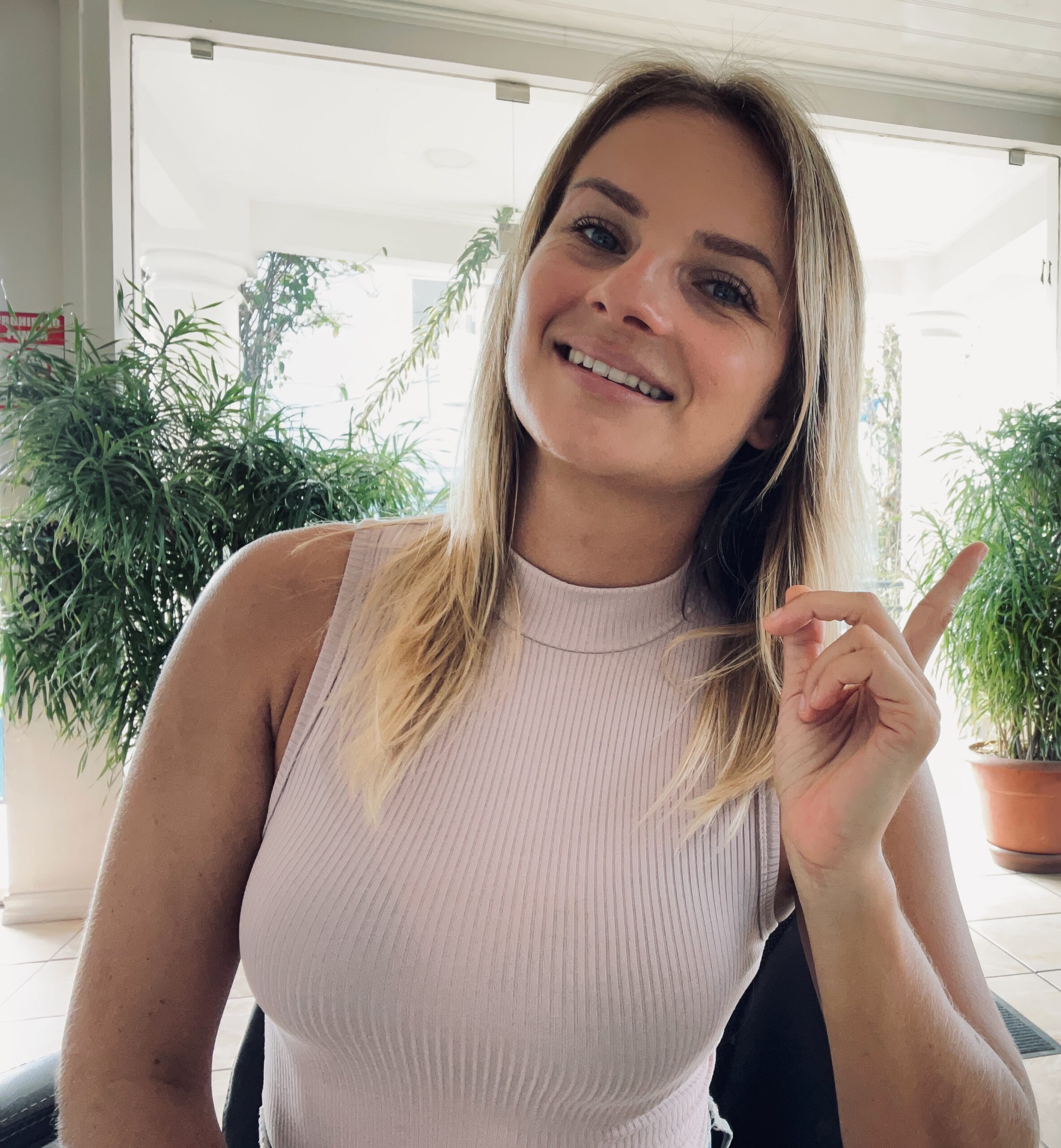 Arrange your logistics & conduct specialized research

Provide ultimate 1:1 support each step of the way

Conduct jam packed group informational sessions on the topics you need to know most

Connect you with the experts on our team

Secure your 1st long term home rental

Arrange your arrival logistics (transport etc.)

Greet you for an effortless arrival

Introduce you to your town & help you get settled in

Connect you to your community

Assist you with your questions for as long as you need us for after your move!
You move to Costa Rica and live your best life! We can't wait to celebrate and support you through this HUGE life transition!
Your satisfaction with the entire experience is our TOP priority!
WHAT HAPPENS AFTER
YOU SIGN UP?
You receive INSTANT access to your log in portal where you can get started on our "Welcome Module"

You will receive a service agreement for signing via "Sign Now." This is designed so you are crystal clear about what to expect from us!

Sarah will reach out to book your 1:1 Kick Off call

Get connected to your support resources (members only Facebook Group, WhatsApp Hotline #, Sarah's Office Hours)

Discover our Member's Archive – Your informational library at your fingertips!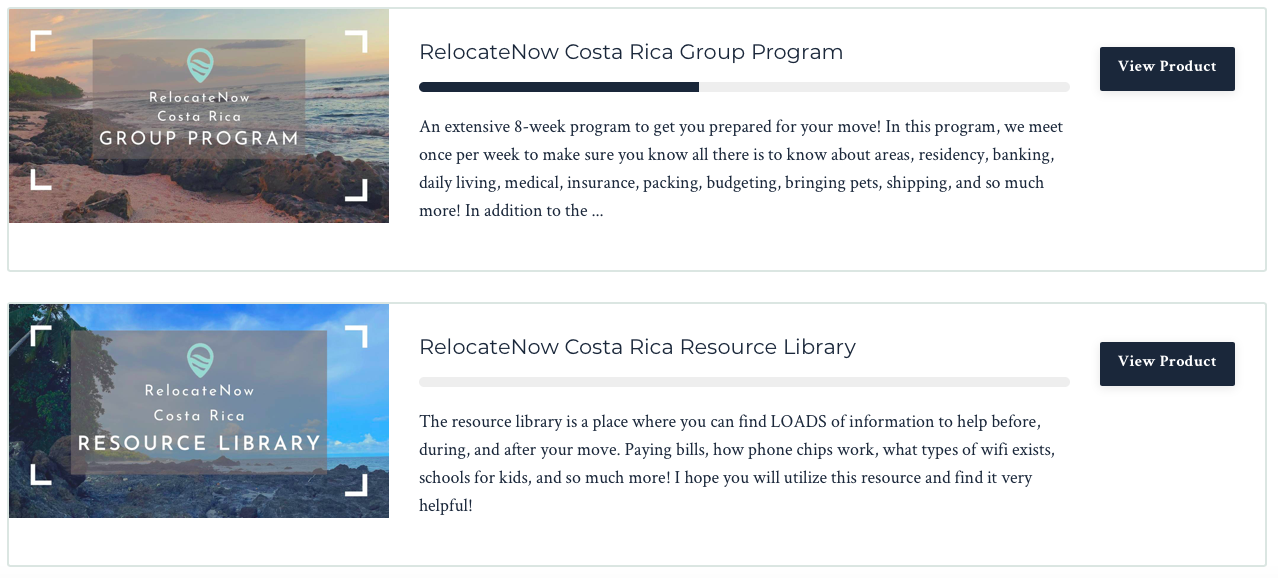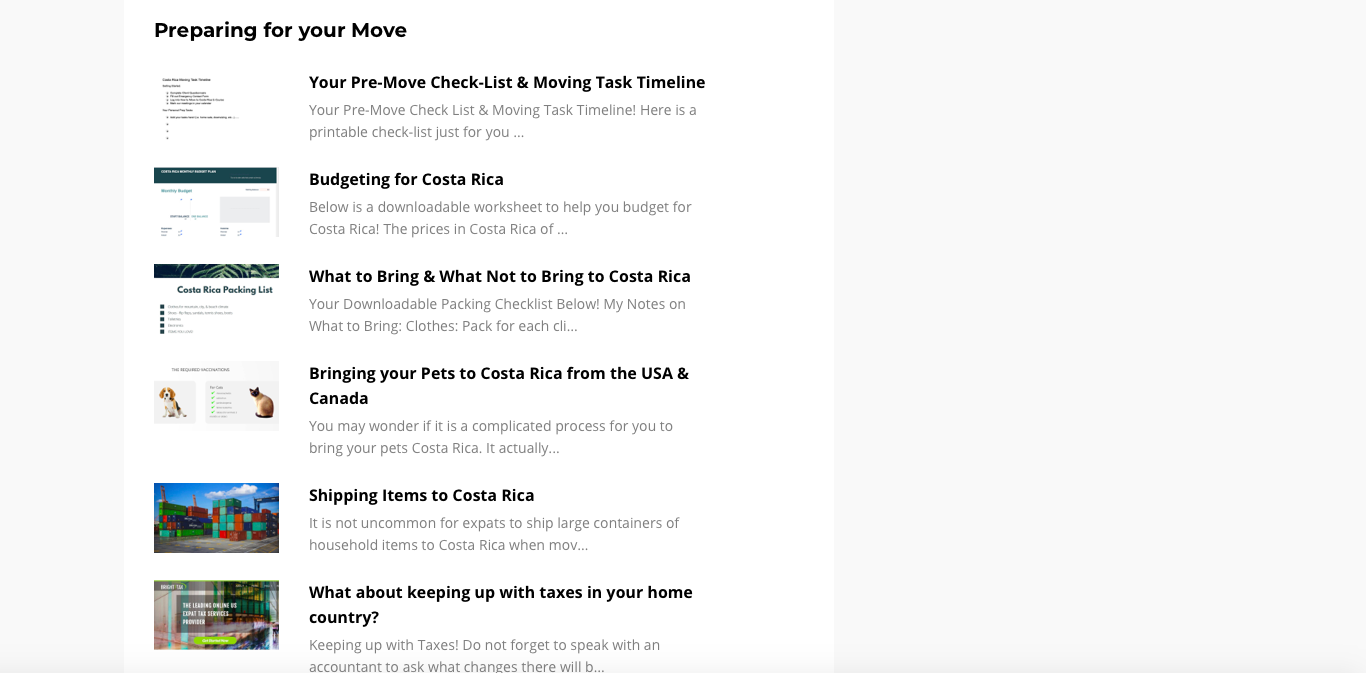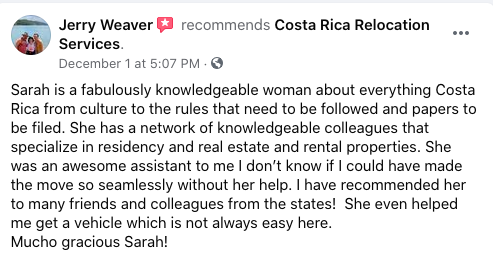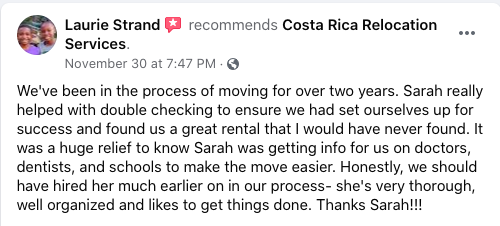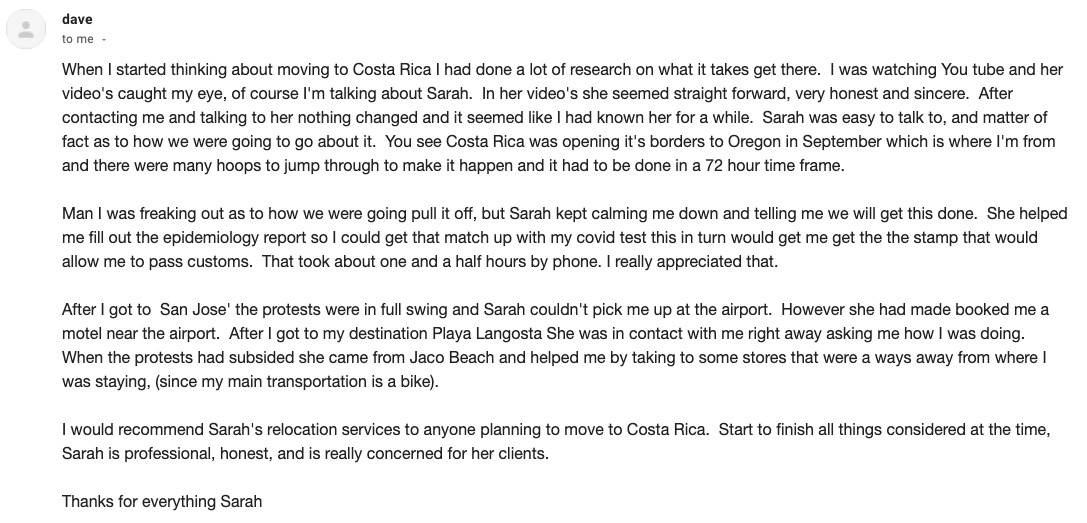 Considering working with us but do you still have questions?