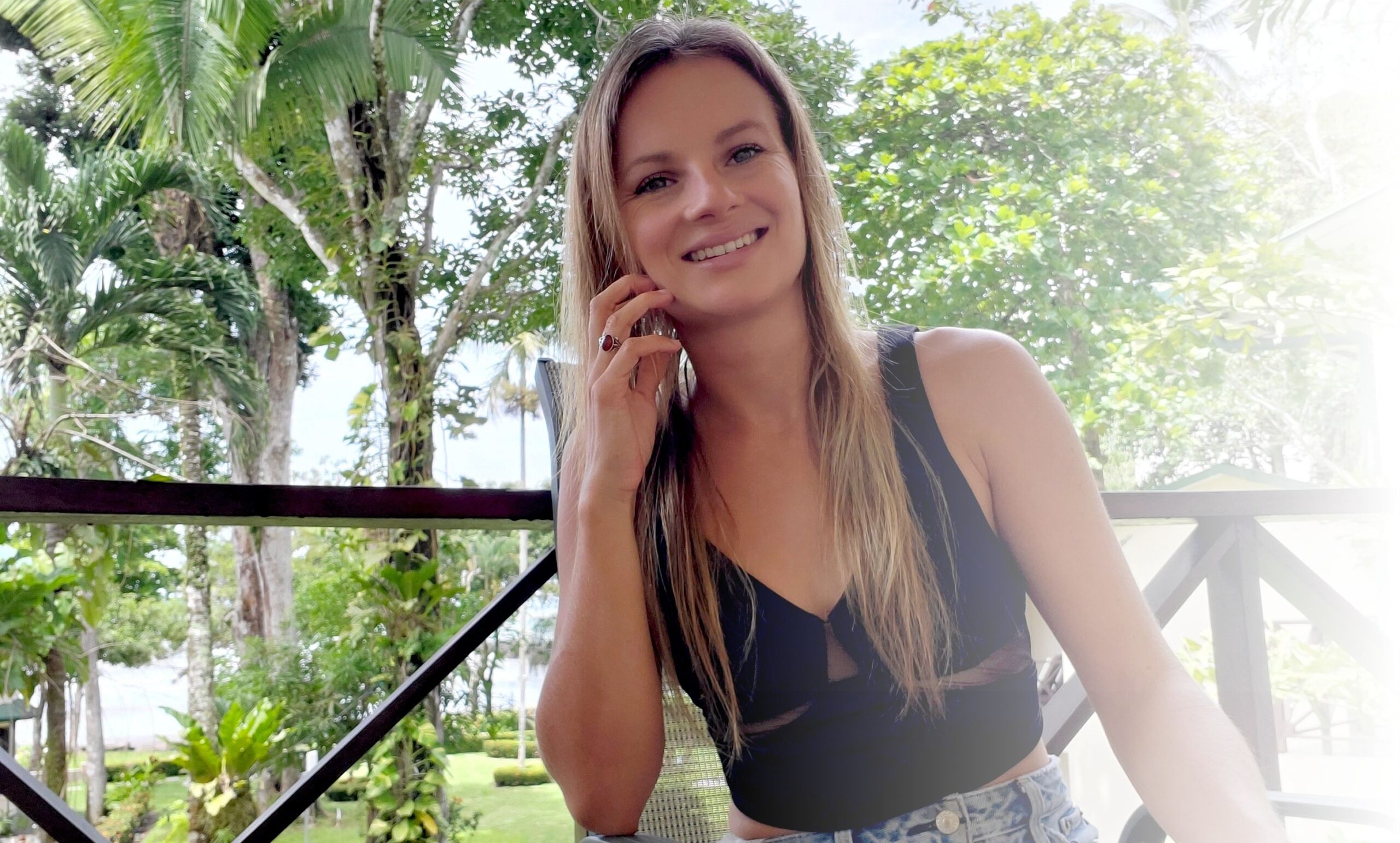 Are you planning to
Relocate to Costa Rica?
Your One-Stop Shop for your Move to Costa Rica!
What is the RelocateNow Program?

Expert consulting for future expats in Costa Rica who wish to fast track the process of their move by receiving the specialized  information they need, trustworthy connections within the country, and high level 1:1 support through the entire process.
Book a free consultation
Would you like to speak with a Relocation Expert about how to properly plan & execute your move?
In an organized fashion leading up to your move, our simple, easy to implement program and our team will guide you through each major and minor logistic of your move. We help you make important decisions to ensure your transition to Costa Rica is smooth. 
Our "4-Pillar" System of RelocateNow:
Customized "Roadmap to Costa Rica" – 

We create a customized "Roadmap" plan that will outline the steps to be taken for your move to happen within your desired timeframe.

Identify & Educate – 

In this step we identify your needs educate you on the information that you must know in order to make big decisions for your move to Costa Rica.

Execute – During this step, you are executing the outlined logistics that you must wrap up in your home country and our team is helping you execute logistics here on the ground in Costa Rica for your arrival.
Land – We coordinate your arrival logistics, meet with you in person to help you get settled into your new life!
Once logged into our online portal, you'll have access to all of our training modules which educate you on each major component of your move (and the minor ones!).
You'll also have access to our friendly, likeminded community of others just like you who are moving and our knowledgable community of expats who have already made Costa Rica home. Community is essential for your move!
And Logistics + Support sessions by Sarah Elena (once per week) to ensure that no question ever goes unanswered and every element of your move is coming together as planned.
Elements included:
Access to our top experts in Residency, Insurance, Shipping, Car Rental, Home Rentals, property purchase, investing, and our other trustworthy connections throughout the country

Transporting pets

Purchasing a vehicle

What to bring for the move

Advisory on residency and how to complete the process

Locating an affordable home rental

How to navigate and protect yourself with large purchases (real estate, car purchase, etc…)

Customs and shipping

Setting up a bank account in Costa Rica and best banks to use from your home country for living abroad

Up to date information on border runs to Nicaragua & Panama

Creating a proper monthly budget

Setting up a phone plan in Costa Rica

Securing the proper insurance policy for health, car, home, and Covid

Education on the medical care system 

…and other essentials for settling abroad!
Deliverables of the RelocateNow Program:
1:1 support each step of the way

Organized modules covering entry, residency, packing, shipping, bringing pets, budgeting, banking, insurance, medical, car purchase, car rental, emotionally and mentally preparing for your move

1:1 consults via zoom, WhatsApp, and email with the RelocateNow Team and Sarah Elena

Weekly group meetings

Direct connection to our experts

Pre-arrival Plan – 1:1 zoom consult to finalize arrangements of transport, hotel recommendations, and entry requirement check before entry

Tour of your town! One of our team members meets with you and introduces you to your town and assist you with whatever you may need for the day following your move
Our clients who run through our RelocateNow program get quick results in formulating and successfully executing our laid out plan for moving to Costa Rica!
We can't wait to celebrate and support you through this HUGE life transition!
Your satisfaction with the entire experience is our TOP priority!
Book for a free consultation
Would you like to speak with a Relocation Expert about how to properly plan & execute your move?
Want to scout out Costa Rica before moving?
Check out our Scouting Trip Package!
This package is ideal for those who have an interest in moving to Costa Rica but are planning a trip to come check things out. This experience is made for someone who is looking for a LIVING experience in Costa Rica vs. a vacation experience.
What do our clients have to say?
"When faced with the daunting task of leaving the US to move to Costa Rica, working with someone who has been advising and walking me through every step has been priceless. Sarah's services are beyond compare with anything else I've ever seen! She takes a personal interest in making things as smooth and painless as possible. This isn't just a job to her, her heart is in helping in every way she can. Her kindness as well as her attention to detail has made me feel at home even before I get there! It's like I already have a best friend in Costa Rica waiting for my arrival. I will gladly recommend her to all of my contacts who are looking for relocation services!"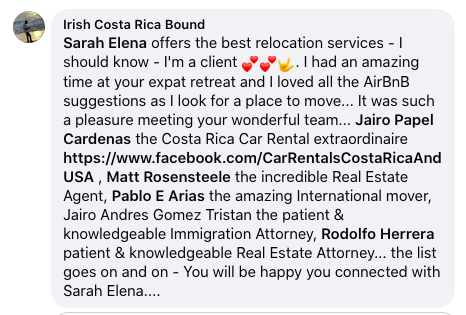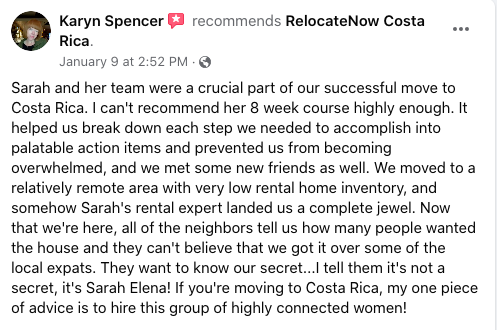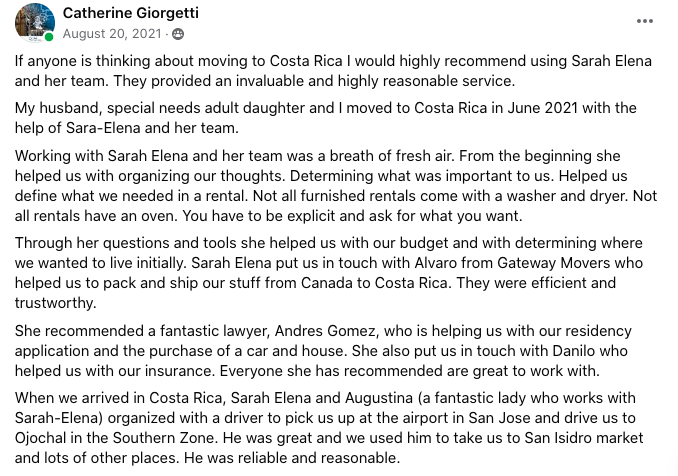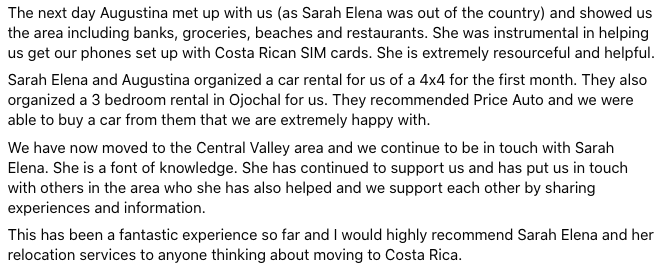 Where to our clients live?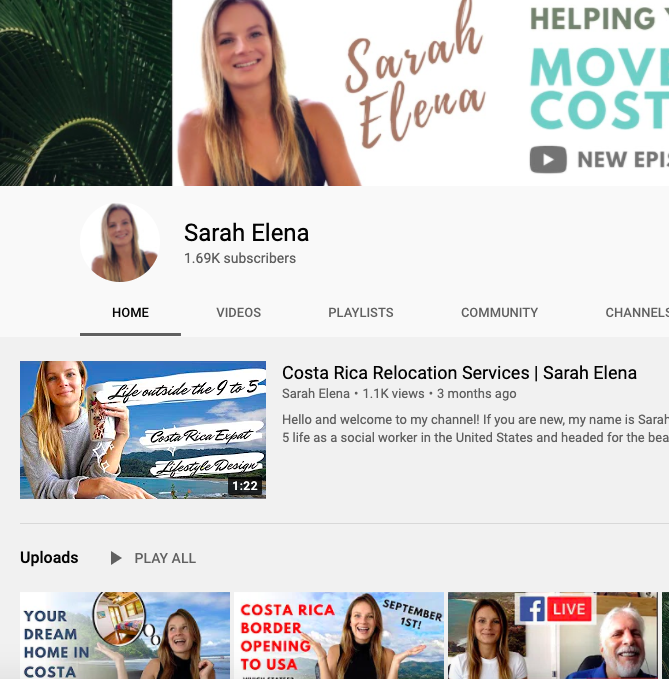 YouTube Channel
You can find LOADS of free information here on many topics for moving to Costa Rica. I also go live each week to discuss what you need to know most for your move!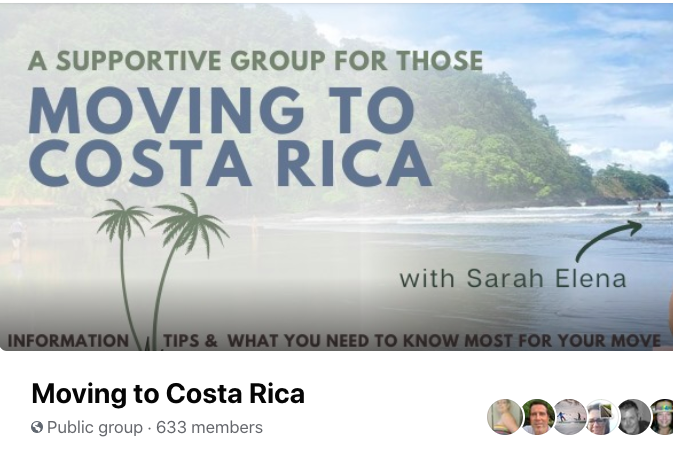 The "Moving to Costa Rica" Tribe!
Connect with others who are also moving to Costa Rica in our private Facebook community! I also pop in here to answer questions and interact with others in the group.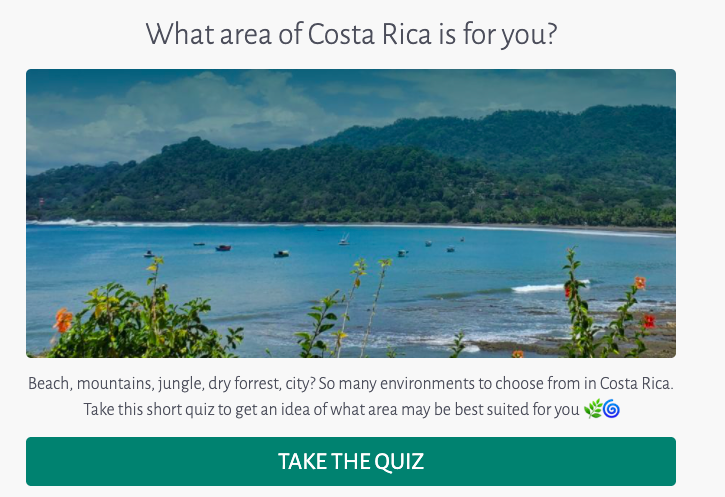 Take the areas quiz!
A quiz I made special for you to help you determine which area of Costa Rica is the best fit for your move! What will it be??
About Me
I had a nagging feeling there was more to life than my 9 to 5, so I quit my job as a social worker, moved to Costa Rica, got pregnant, began working remotely, became a single mom, started two businesses, and it's a very long story actually…
I am passionate about empowering my clients to determine how they want to feel and live each day. Your move is not only going from point A to point B. Your move is about truly deciding how you want to live your life here in Costa Rica!
It doesn't matter if you're just getting out of college, starting a family,  or near retirement, it is always a good time to evaluate how you want to live out the rest of your life and know that you truly do have the choice to design it your way.
Are you ready to move to Costa Rica?